OneNote & Dropbox: Missing Unfiled Notes
I'm a big fan of Microsoft OneNote.
OneNote is the holder of random bits of information that would otherwise be strewn about my bookmarks, saved files or thrown away and forgotten. It is SO handy. In a lot of ways, it has become the dumping grounds of my life. If I were a college student, OneNote would be my favorite application.
I'm also a big fan of Dropbox.
Dropbox keeps me sane by allowing me to have one set of data spread across multiple computers. It backs up, it versions and is just awesome.
Put OneNote and Dropbox together and you have a match made in heaven.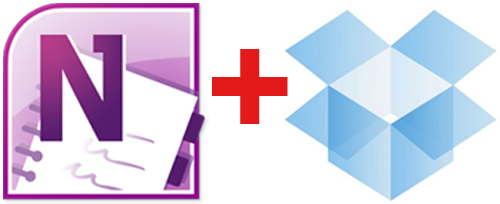 Well, almost.

Until today, I had one major problem using OneNote with Dropbox.
If I were on a home computer and sent something to OneNote, it would go in just fine. But then if I went to one of my other systems to pull up that content, it wouldn't always be there. Sure enough, I'd check the file path and find that Dropbox had gotten confused and created a conflicted copy.

If I didn't realize that something was missing right away and started capturing to my Unfiled Notes from a different system, I'd lose data.
The source of my problem was that I had set all of my systems up to copy to the same Unfiled Notes notebook. This made sense during the setup as of course I want all my Unfiled Notes to be together and accessible in one place. But the more I ran into this conflicted file business, the more frustrated I got.
Today, the solution finally dawned on me:
Create a dedicated OneNote notebook for Unfiled Notes.
Create a section in the notebook for each computer.
Point each system to the appropriate section from Step 2 Under OneNote -> Options -> Save & Backup -> Unfiled Notes Section.

So if you made the same mistake I did in putting all your Unfiled Notes into the same file from different computers, hopefully this fix will help you.
/images/logo-marktastic.png
0
0
Mark
/images/logo-marktastic.png
Mark
2011-04-23 16:00:33
2011-04-23 16:41:01
OneNote & Dropbox: Missing Unfiled Notes