This Week in St. Louis Sports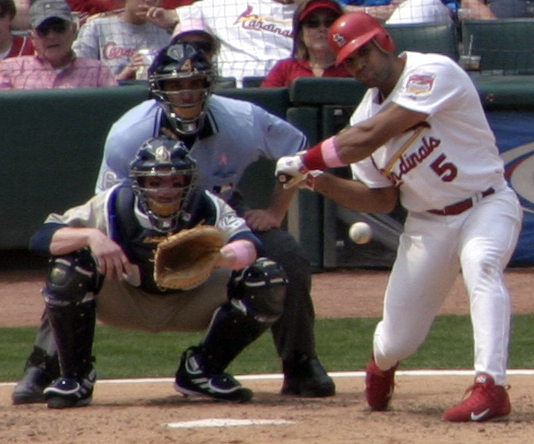 This was going to be a post about Albert Pujols and his stalled contract negotiations. I was going to give a compelling and well thought out argument that the Cardinals will be just fine without him.
But then the Cardinals suffered a massive loss with the season (plus) ending injury to the Horse of the Rotation, Adam Wainwright, so I scrapped that post and started over.

So a shorter mention on El Hombre
As good as Albert is, and he is phenomenal, he is a smaller piece to the Cardinals' success than Mr. Wainwright.
If the Cardinals don't meet his contract demands, that salary will be used towards the multiple pieces needed to plug that gap. But again, as good as he is, there are more value-oriented players to play first base.While he is consistently awesome, I'm not sure the Cardinals can afford to pay him for future production when that production is almost surely going to drop in 4-5 years, but his pay will be based on his 10 year track record of awesomeness. Sure they have the money, but what good is Albert when you can't field a team around him?
If the rumors of 10 years/30 million are in the ballpark of what Albert is seeking, then let the Cubs (who seem more than eager to throw crazystupid money at Albert) or some other sucker sign him. They can be saddled with him in his 40's at a price that will be WAY too much for a past-their-prime slugger who currently has so many aches and pains he doesn't run out ground balls to first.
And even Albert can't save the Chicago Cubs. They are forever doomed to the suckitude we are all accustomed to.
A Real Ball Breaker – 12. to. 18. months.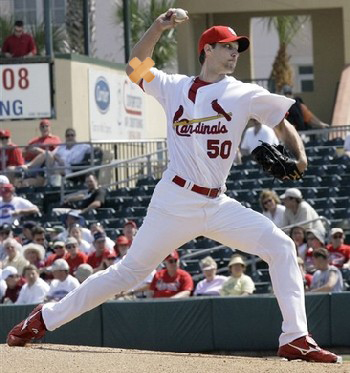 I was listening to a local morning show on Wednesday when it was announced that Adam Wainwright was returning to St. Louis for a medical evaluation. Just before the announcement came, Cardinals starter, Jake Westbrook was being interviewed and was discussing his recovery from Tommy John surgery. He was commenting that it was 2+ years before he was back to what he thought was his normal self.
The true impact of Adam Wainwright's injury is not just limited to 2011. Adam probably won't return to the lineup until June or July of 2012 at the earliest. Even then, he probably won't be 100%. So Adam, notwithstanding his now tenuous contract situation, is basically out for 2 years. Suck.
20 game winners do not grow on trees. Pitchers who are still sharp after 115 picthes are rare. True staff aces that make what Wainwright made in his current contract are non-existent. Adam is the top of the rotation. While we still have a solid rotation with Carpenter, Garcia, Lohse and Westbrook, it does not look nearly as promising as it did a week ago.
A few notes on the Blues
It is still hockey season, and as with any team in the Western Conference (except the Oilers), the Blues are still in the playoff hunt. The Blues were also active last week in the trade market.
The Departed
I'm indifferent to Eric Brewer's departure. He was always a solid defenseman who got a raw deal from the fans. It wasn't his fault he was what we received for the Pronger salary dump during an ownership transition. Pronger was awesome. News outlets report that Brewer was a strong leader for the team, but unfortunately, his leadership did not advanced the playoff hopes of the Note.
Erik Johnson on the other hand has been disappointing as the first overall pick in the 2006 draft. Here are the names of some of the other players we could have had: Toews, Kessel, Staal. I never understood why we picked him to begin with and he hasn't lived up to his #1 overall pick billing. He gave up the puck a lot in our zone and I'm glad he's gone.
Jay McClement has been a stalwart of the Blues for some time. His consistent energy and penalty killing skills will be missed.
The Additions
Chris Stewart was the only player I recognized as he consistently scored A LOT against us. He seems to have gelled very well with the team and thus far has 6 goals in 5 games. He's the big butt we've been lacking since Keith Tkachuk retired. I look forward to seeing his posterior parked in the goal crease for some time. The Blues definitely got the better end of this trade.
Let's Go Blues!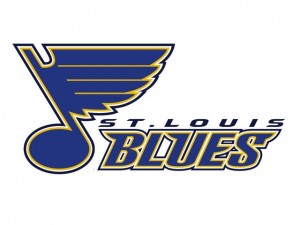 /images/logo-marktastic.png
0
0
Mark
/images/logo-marktastic.png
Mark
2011-02-25 22:00:25
2011-02-25 22:46:20
This Week in St. Louis Sports