Did you give Todoist a fair shot?
Arguably, no. One day is not truly enough time to evaluate and judge a product in its entirety. I'm certain some of the things I couldn't figure out how to do may be possible. However, I am quite certain that for its modern feeling interface, Todoist is a slower, less-efficient tool than Remember The Milk.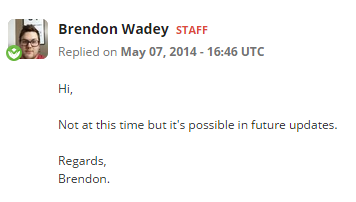 The other reason why I was quick to abandon Todoist was the common theme I saw among their support forum staff posts. In my searching for solutions to some of the above issues, I found this common refrain, "Not at this time but it's possible in future updates." How about this. . .if you aren't willing to consider a request, say no. Better yet, and this applies to all web app manufacturers who poo-poo feedback from users in lieu of their obviously superior vision, share a road map of where your vision is taking the rest of us so your users can better decide to get on board. . .or not.
Todoist used to have a Votebox feature where users could request and cast ballots for features they would like to see. Todoist apparently didn't see the point in this useful exercise and shut it down without implementing the most often requested features (like CSV Import/Export).
The primary reason most folks wanted the CSV Import/Export were to address two big features lacking in Todoist – bulk editing and accessible backup. I've already discussed the superiority of Remember the Milk's bulk editing, but another feature that is largely unknown is that you can get a complete file containing all your Remember the Milk tasks very easily. It is generated by using the Internet Calender Service Remember the Milk provides (change the webcal to http and open the link provided under Settings -> Info). While not directly usable, that ics file could be easily parsed to a spreadsheet or other application, which is comforting because you have the data. I didn't feel that comfort in my ability to export my tasks from Todoist or that the staff would ever deign me worthy of this ability.
Oddly, when I requested a refund from Todoist support, the refund was processed with no questions asked. Usually, that's good, but I feel like they missed an opportunity to improve by not pursuing feedback. Certainly, I'm full of opinions, if nothing else.
Pages