Like the Show Desktop button, I'm also a huge fan of the Address Bar toolbar in Windows XP. Or at least I was until Service Pack 3.
The Address Toolbar (RIP)


Recently, Microsoft under the guise of a Service Pack removed functionality. I believe the explanation they used was something like, "Due to regulatory requests . . ." and that this stems from the removal of Internet Explorer from the OS itself. I, personally, this is one of the dumbest things ever, but that's me.
This toolbar was hugely helpful to launch websites, open files and do a variety of other tasks. My search soon began for a freeware replacement.

What I found was just as good. The MuvEnum Address Bar.

Their website describes it as:
MuvEnum Address Bar is the ultimate replacement for the missing address bar in Windows XP SP3. It recreates the experience of the original address bar with auto-completion while adding many new features that allow you to quickly open webpages, navigate to favorites, start programs, search the internet, and more from you Windows Taskbar!

Features

Supports the following original address bar features: Environment Variables, System Locations, Favorites, Quick Search Aliases, History, and Inline Auto-Completion.
Set focus to the address bar using a global system-wide hotkey. Defaults to Ctrl+Shift+A.
Hit Escape to clear the current text.
Option to automatically check for updates.
MuvEnum Address Bar Options Screen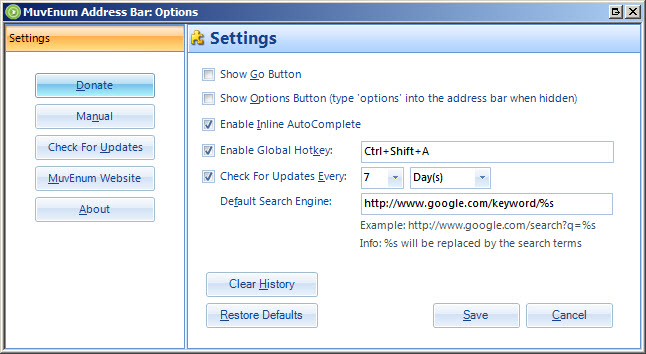 I highly recommend the MuvEnum Address Bar.
UPDATE: If you'd prefer to get the authentic Address Bar back, check out this link.
/images/logo-marktastic.png
0
0
Mark
/images/logo-marktastic.png
Mark
2008-09-23 20:10:07
2008-10-09 11:07:09
What happened to the Address Bar in Windows XP Service Pack 3?