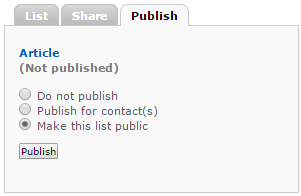 Lists can be published.
If I want to share a project in Remember the Milk, I can publish that list to folks without an account and they can see what tasks remain on the list. This is particularly helpful for people that may need to see the list without doing any of the work (bosses, spouses, relatives)
Todoist projects can only be shared with Todoist users. Convincing my boss to sign up for a Todoist account so he can see my work log is a no-go.
Keyboard Commands
The more you use the mouse, the longer it takes. Having the ability to fully manage tasks from the keyboard is a huge time save.
Here's what you can do with keyboard commands in Remember the Milk.
And here's the short list from Todoist.
Annoyingly, the Todoist keyboard commands interfere with normal keyboard operation. CTRL+Right Arrow indents a task in Todoist and breaks the quick word select keystrokes. Clicking a task and entering edit mode also drove me crazy.

Deletion of Recurring Tasks
In Remember the Milk, if you delete a recurring task, you are presented with the graphic above which is quite helpful in gaining more input from you the user as to why you aren't needing to keep a task that happens to repeat.
Todoist maddeningly deletes the recurring task if you delete the current instance of it. I recall seeing that it was advised to change the date of the task to avoid this unfortunate deletion.
A few other minor nits about Todoist also irritated me. I found it difficult to duplicate a task in Todoist. The clean layout of Todoist grew tiresome after a while. The separation of labels to a new line wasted a lot of space and led to unnecessary scrolling.
Pages