AT&T Wireless Issue: "Connection Failed Due to Incorrect APN Setting" Error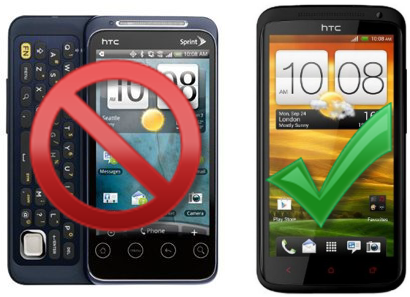 I recently upgraded my cell phone. I've been using an HTC EVO Shift 4G for a couple years. While I will miss the physical keyboard, how HTC ever decided the paltry amount of phone storage (384 MB) was sufficient still baffles me.
The EVO was a company provided phone and since Sprint didn't have any phones that were particularly compelling, I set out to upgrade my personal cell (An LG CU500 flip phone).
Based on some great reviews, I picked the HTC One X+ as my new phone of choice. But I encountered a few issues with AT&T.
I ordered the phone from Amazon Wireless on 12/24 with the 3GB data plan. The device finally arrived on 12/28.
I had to call AT&T to get voice service working. There was some issue with the sim card that I was told was already activated, but not working properly.
On 12/29, I left the house and was expecting to have data access on my new device. But that was not the case, so I set about figuring out what was wrong.
When I went to Settings -> Mobile Network, I saw "Connection Failed Due to Incorrect APN Setting".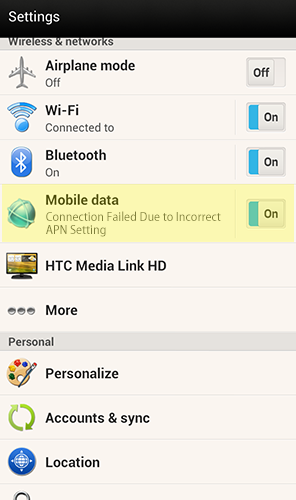 So I set about googling the issue.
I found this site: http://forums.att.com/t5/Data-Messaging-Features-Internet/quot-connection-failed-due-to-incorrect-apn-setting-quot-message/td-p/2802701
And added this APN Profile to my phone:
Name: AT&T
APN: wap.cingular
Proxy: leave blank
Port: leave blank
Username:[email protected]
Password:CINGULAR1
Server: leave blank
MMSC: http://mmsc.cingular.com
MMS Proxy: wireless.cingular.com
MMS Port: 80
MCC:310
MNC:410 (note. this could also be 310, 41 or 15)
APN Type: leave blank
All was then well, I had data access. Or so I thought. . . .
Then I woke up on 12/30 to 2 emails and 2 texts telling me I had used over $100 of pay-per-use data.
What. The. Crap.
Turns out that when I ordered my 3GB data plan, it was not correctly added to my account. So the 11 MB I used on 12/29 were billed at $0.01 per KB.
AT&T agreed to credit this "overage", but I wanted to share this for anyone else upgrading a phone or adding a device to avoid the APN settings above and call 611 for assistance.
/images/logo-marktastic.png
0
0
Mark
/images/logo-marktastic.png
Mark
2012-12-30 10:00:40
2012-12-30 12:02:53
AT&T Wireless Issue: "Connection Failed Due to Incorrect APN Setting" Error